Language delays and speech difficulties are a common developmental problem found in 5% – 10% of preschool children.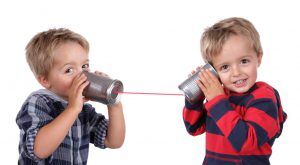 A language delay can be receptive, expressive, or both.
Receptive Delay – difficulty with understanding words, phrases, and conversation.
Expressive Delay – difficulty expressing themselves
Expressive & Receptive Delay – difficulty with both understanding and expressing themselves
Early intervention is very important for a child with a speech or language delay.
The Speech Specialists have a great group of experienced and well trained therapists that know how to help. Our therapists will:
Provide 1 on 1 therapy sessions at a time and place that is convenient for you

conduct a thorough assessment, set up an individualized plan, and provide treatment that will maximize speech and language abilities

use researched and effective therapy techniques to meet communication goals

engage the child with enjoyable activities that promote language development

provide lots of information and a home program for the family
Our therapists are located all across the GTA and Southern Ontario. For more information, please fill out a contact form and a speech therapist will contact you on a priority basis.